NexION 300 ICP-MS
A new ICP-MS with single nanoparticle (SP)-ICP-MS function was obtained by Dr. Honglan Shi and Dr. Xinhua Liang from PerkinElmer. This ICP MS is highly sensitive to metal elements and other elements analysis with a specific software system that can be used for single nanoparticle analysis. It can not only detect the trace concentrations of nanoparticle, but also detect particle size, aggregation, hybridization and more.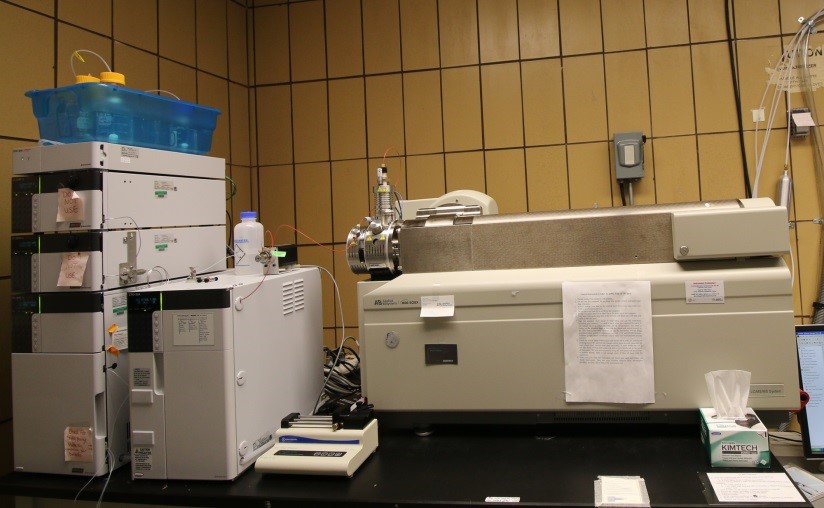 4000 QTrap® System
This AB SCIEX 4000 QTRAP® mass spectrometer uses tandem QqLIT mass analyzers which enables a range of possible scan modes including normal triple quadrupole scans including highly sensitive multiple reaction monitoring (MRM) mode, as well as enhanced linear ion trap (LIT) modes for high resolution structural elucidation among others. Total scan types include: Q1 MS, Q3 MS, Product Ion, Precursor Ion, Neutral Loss or Gain, MRM, EMS, EPI, ER, MS3, TripleTrap™ Scanning. Ionization occurs within an AB SCIEX TurboIon chamber with either TurboIonSpray™ or APCI probes. A Shimadzu ultrafast liquid chromatograph (UFLC) with accompany degasser, binary pumps, autosampler, and column oven provides superior analyte separation with a maximum pressure of 9500 psi. This instrument is used for small molecules (<2000 Da) with detection limits near parts-per-trillion (ppt) or parts-per-billion (ppb) for most substances with common applications including metabolites, pharmaceuticals and personal care products (PPCPs), water disinfection by-products (DBPs), pesticides and herbicides, explosives, and many more.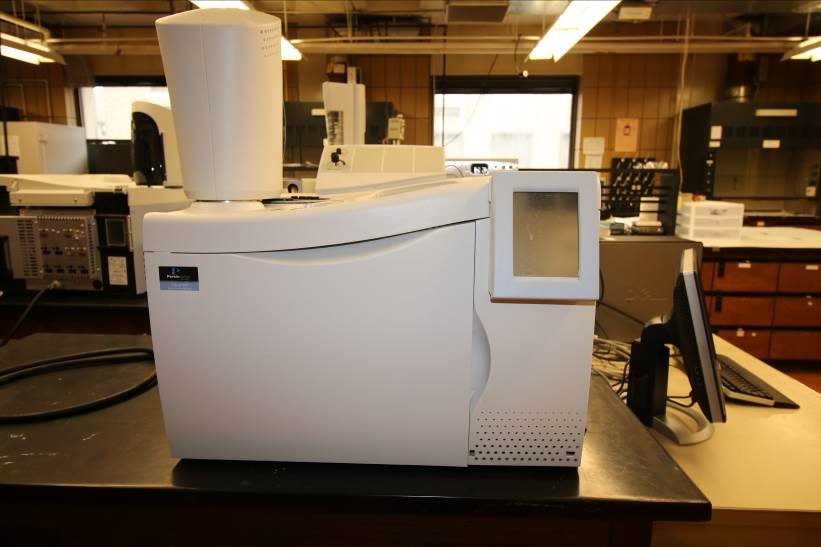 GC-FID
Gas chromatography (GC) is a Perkin Elmer product. The GC model is Clarus 500. FID is one of the most used detectors for Gas chromatography. The GC-FID is well suited for analysis of hydrocarbons such as methane, ethane, acetylene etc., but also for organic substances containing hydrocarbons and for volatile organic compounds (VOCs).
GC-NPD
Gas chromatography (GC) with a Network Chromatography interface (NCI). It is a Perkin Elmer product. The GC model is Clarus 500 and NCI model is 900. This system responds to nitrogen-phosphorus compounds about 100,000 times more strongly than normal hydrocarbons. Due to this high degree of selectivity, the NPD is commonly used to detect pesticides, herbicides, and drugs of abuse.
GC-MS
Gas chromatography-mass spectrometry (GC-MS). It is a Varian product. The GC/MS model is Saturn 200 and GC model is CP-3800. This system is used to analyze many volatile compounds such as trihalomethane (THMs), halonitromethane (HNMs), N-nitrosamines, and more. For most compounds, the detection limits can reach up to part per billion (ppb) to part per trillion (ppt). With installed library, many unknown can be identified base on the spectrum.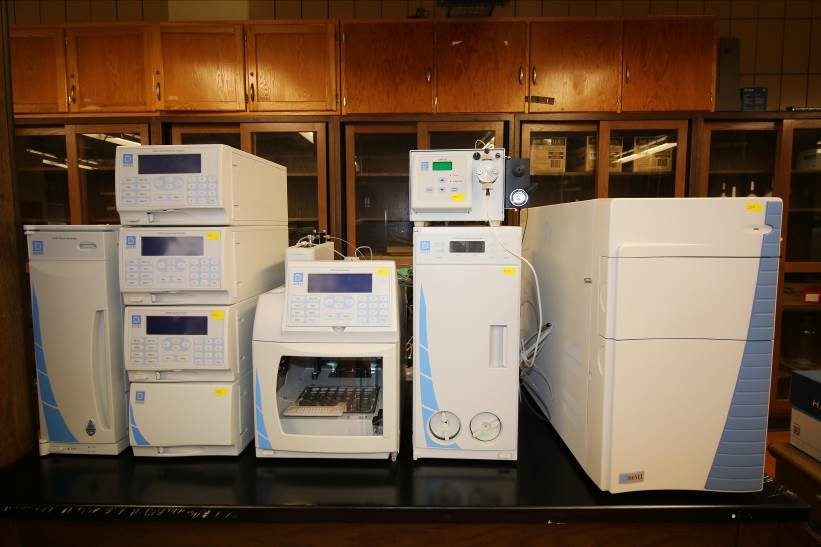 IC-MS
Ion Chromatography-mass spectrometer (IC-MS) model EG50 with a model AS50 autosampler and a model LC30 chromatography oven was purchased from Dionex with a model ED50 electrochemical detector and a model CD25 conductivity detector. This system is used to analyze many environmental water contaminants such as inorganic ions, disinfection byproduct anions, perchlorate, and haloacetic acids. Common detection limits for this system are at the part per billion (ppb) levels, providing adequate sensitivity for monitoring contaminants at environmental concentrations.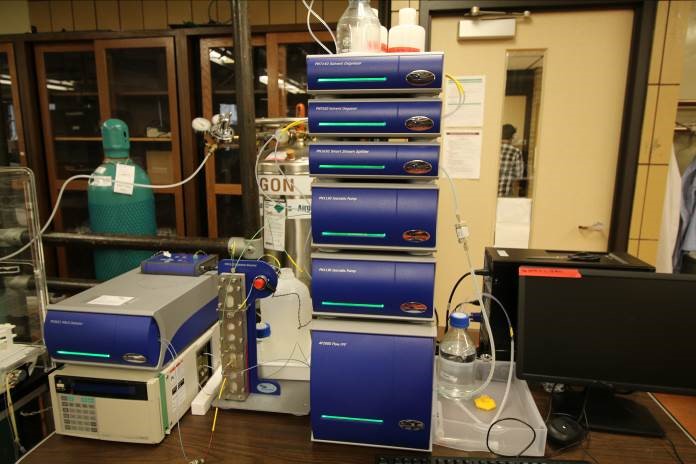 Field Flow Fractionation System
It is an AF2000 system from PostNova. The AF2000 Series platform is based on the Flow FFF principle, using a cross-flow field as driving force for the particle size separation. The samples which are affected by this field are separated by their dynamic diffusion on the basis of the molar mass or particle size. The AF2000 can be easily used for separation of a broad range of different samples from the area of biopharmaceuticals, food-agro-cosmetics, environmental, chemicals and nanotechnology.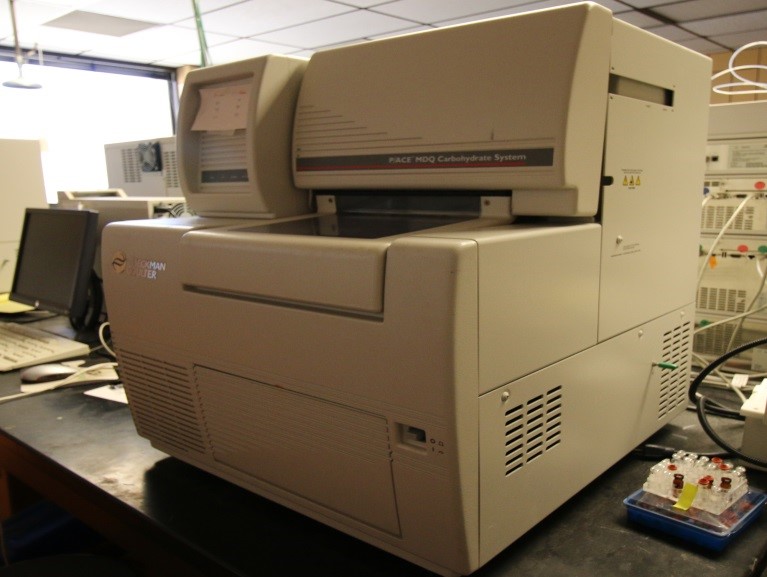 HPCEs
Multiple high-performance capillary electrophoresis (HPCE) analytical systems were purchased from Beckman Coulter. The system includes a P/ACE™ MDQ configured with both a photo diode array and selectable-wavelength UV/Vis (200, 214, 254 and 280 nm filters included) detector, UV source optics, temperature-controlled sample storage module and 32 Karat™ Software configured on an IBM personal computer. This instrument is used to separate and quantify many kinds of molecules, such as proteins, DNAs and other small molecules.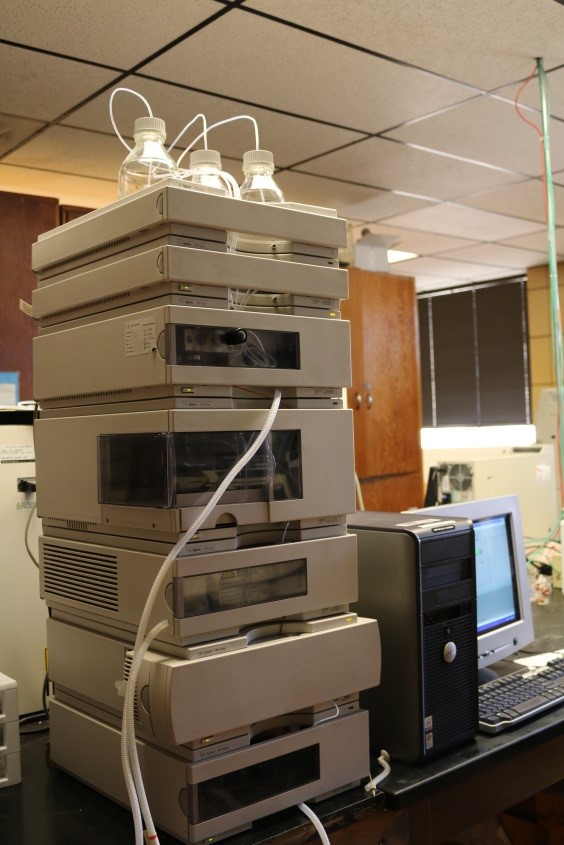 HPLC
An Agilent 1100 Series high-performance liquid chromatography system provides rapid separation of a wide range of analytes of interest, including metabolites, environmental contaminants, pesticides, and many more. The system includes a degasser, quartenary pump, thermostatted autosampler, thermostatted column compartment and UV-Vis DAD detector. The HPLC system has a maximum pressure of 5600 psi and can function under a range of inorganic and organic buffers. The detector includes a deuterium discharge lamp and a tungsten lamp for simultaneous absorbance measurements between 190 nm and 950 nm.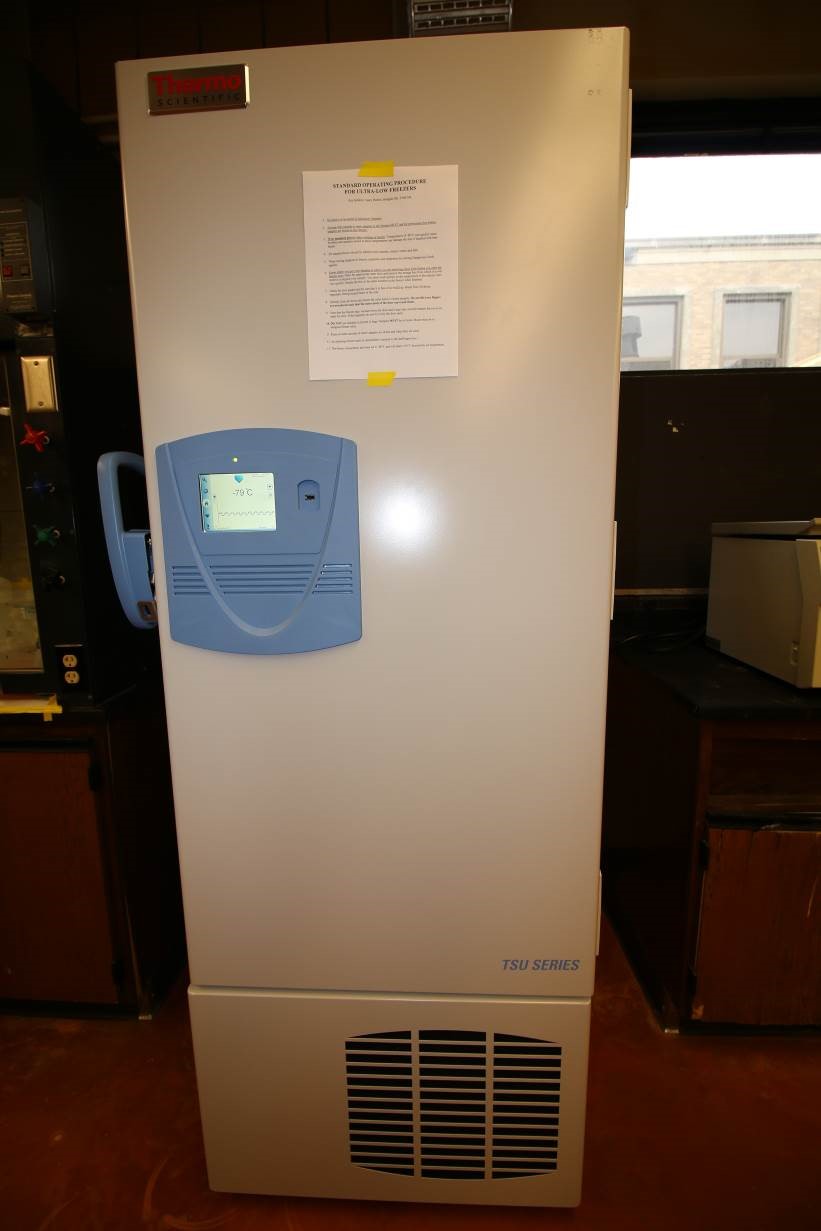 Ultra-Low Freezer
A 19.4 cu. ft. ThermoFisher TSU400D ultra-low freezer is operated at -80°C for storing biological specimens and other thermally labile sample types. The freezer features three shelves (capacity 165 lbs each), four doors, and an on-board touch display for user-friendly configuration. The freezer is equipped to handle 400 traditional 2 mL vial boxes (40,000 vials). A vacuum panel and water blown foam provide superior insulation with peak variation at -80°C ± 5°C. Freezers are operated under secure modes requiring user access.
Sterilizer
Autoclave-steam sterilizer is made by Tuttnauer Brinkmann (mode 3545M). This system can work in cycling-drying mode after main run and remove residual moisture after sterilization, and the total running time would normally be 60 minutes; a continuous pressure purge will eliminate air pockets and ensure thorough and even sterilization. Temperature selection can be ranged from 100°C to 134°C (212°F to 273°F).
Cell Culture Hood
A Class II type A2 biological safety cabinet was made and purchased from NuAire. The hood was equipped with UV sterilization capability and has been used for cell culture and cell related assays. Ventilation system has been re-aligned to provide the best sterilization environment and address the bio-safety issue. The cabinet is located in the inner space of a three-layer isolated room, which further assists the purpose of anti-contamination during cell manipulation.
Cell Culture Incubator
An inCu SaFe carbon dioxide (CO2) cell incubator has been used for normal cell culture and maintenance in Dr. Yinfa Ma's lab. A constant inner temperature of 37°C is maintained based on water bath heating, the CO2 concentration has been set at the level of 5% and a full inner humidity is also maintained. Multiple human-derived cell lines have been used or stored under a routine cell culture lab protocol.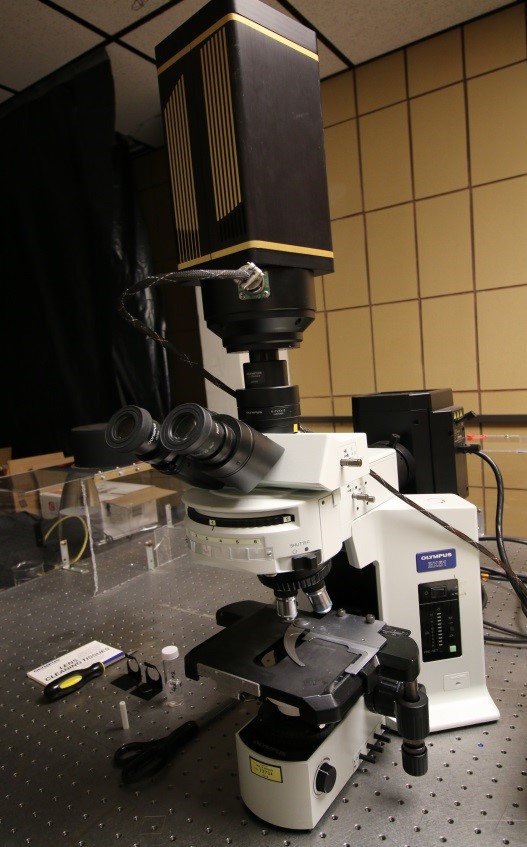 Olympus BX51 Microscope
The upright-style microscope can provide wide range of magnification (4 × to 100×) under both white-light and fluorescent excitation/emission channels (DAPI, FITC, Cy3 and Cy5). A modified dark-filed imaging ability can also be functionalized for specific use. It has been functionalized in multiple projects, e.g. single molecule imaging and two phase flow characterization and nano-/micro-channel flow behavior study and imaging. A CCD camera has also been equipped onto this platform and is able to realize time-lapse image/video capturing. The full functionalization provides this platform a high flexibility for future combination and application in multi-purpose research use.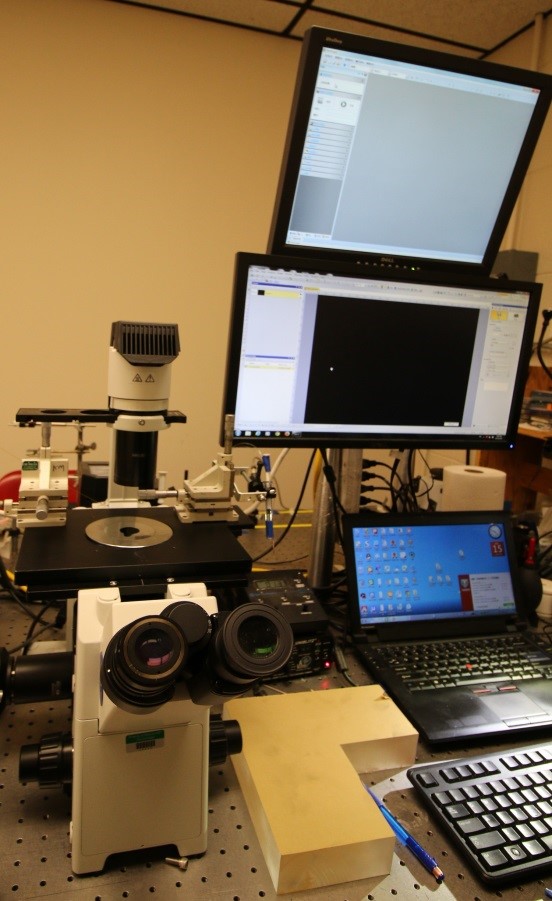 Olympus IX51 Inverted Microscope
The Olympus IX51 inverted microscope has been constantly used for cell imaging and an NIH funded project focusing on the design and fabrication of single cell level versatile biosensors for wide applications. Both cell related image and video clips can be taken with high resolution up to 1500 folds magnification. White field as well as epi-fluorescent channels could provide wide spectrum of images for targeted molecules or cellular compartments. Being equipped with a second digital camera and a separate imaging screen, provide it an extra capability of accurate manipulation and imaging with one single cell. Besides, an on-going upgrading process will enforce this platform with long-lasting on-site cell culturing ability with full simulation of a human body's inner environment, which would highly improve our ability to study mechanisms of human-related toxicity and health problems.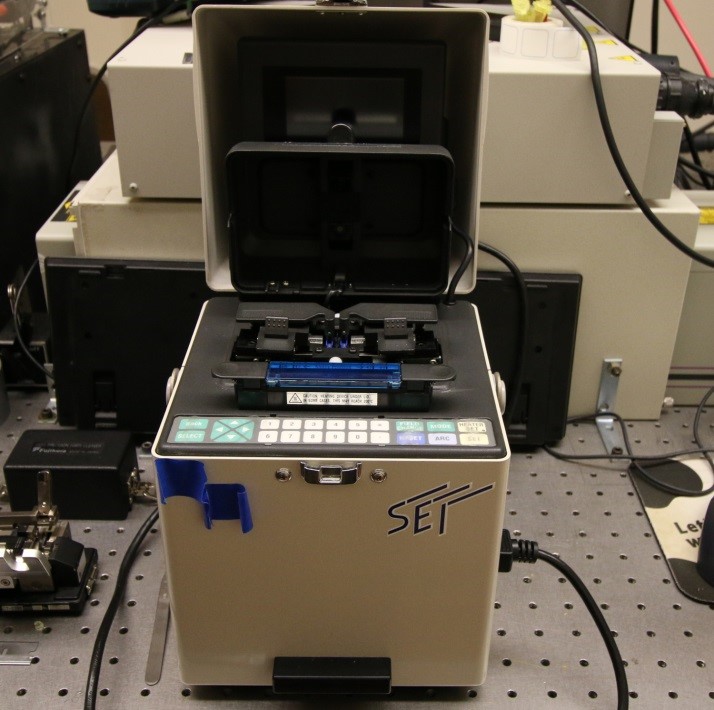 Sumitomo Type-36 Fiber Fusion Splicer
The fusion splicer has been intensively used in multiple on-going projects and enabled many micro-size level fabrications and modifications. Its application in combination with a fiber cleaver can provide high accuracy fiber end flat-cutting, capillary sealing, fiber-fiber or fiber-capillary fusing, fiber/capillary tapering as well as fiber surface smoothing and curving, etc.
MiliQ Water Purification System
Elix 3 + Advantage 10 system has been designed to meet or exceed Type 2 water quality as defined by ASTM®, CLSI® and ISO® 3696/BS 3997. This system provides consistent, reliable high quality pure water for a range of laboratory needs.
Sorvall ST 8R Centrifuge
This ThermoFisher Sorvall ST 8R centrifuge provides full capacity, temperature-controlled (4°C to 40°C), and high-speed centrifugation with a maximum speed up to 30,279 g. It is a daily use basis for a lot on-going projects especially in water research and biomedicine studies.